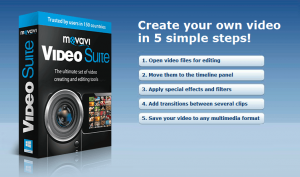 With video playing an increasingly important role in book marketing, I recently shared the news about Flexiclip, a free online video editing resource. But Flexiclip is largely clip-based. It's great when you wish to use their stock videos, but editing your own video can be problematic–especially when working with larger files.
So, what's the alternative? Sure, you could use Adobe Premiere if you can spare $19.95/month. However, is there a solution which will let you edit your own videos without breaking the bank?
I have been using Movavi's products for years now. So, when I was asked to review their video editor for my blog, I was more than happy to do so (I don't review anything I haven't used myself). Please keep in mind that I'd bought version 16 a couple of years ago, and haven't upgraded yet, so the screenshots may be a little different from the latest version.
More than just a great price
One of the reasons I chose Movavi in the past is the cost/benefit ratio. For less than you'd pay Adobe for a couple of months, you get the full standalone Movavi Video Editor. This is a remarkably powerful, yet easy to use, editor (I have never been able to learn Adobe Premiere, as it proved way too complicated for me). You can also convert your videos to a different format, record your computer screen, and capture video.
If you prefer to pay a bit more and buy the whole Movavi Video Suite, as I have, you also get some nifty audio tools, photo tools, data tools, and some nice extras including access to stock video footage.
So, how does it work?
Using Movavi Video Editor: Slideshow Creation
When you first fire it up, you are asked to choose what you wish to do: do you want to create a slideshow, or edit a video? This was a surprise for me, as I hadn't realized you could use the software to create a photo slideshow (of the kind Facebook now seems to like so much).
If you choose to create a slideshow, a wizard asks you to add your photos, specify the video's duration, and add your music. Hit Finish to export your video and you're good to go! Simple, fast, and elegant.
You can choose among a multitude of video formats to export it into, including for Android or iPhone devices, plus 3 different compression levels. There is also an option to upload it straight to YouTube, after which you can share it online on your social media:
Using Movavi Video Editor: Video Editing
If you prefer to edit one of your videos, you get an interface with a preview window, a timeline one, and a list of effects/options:
For my demo, I used a video I shot of the wee one playing at a children's party last weekend. I split the original video to make it last a few seconds, added a title, and finished with a simple fade out effect. I also added a Stabilize effect, as the video was shot using a 15-year-old camera (not a video camera; a plain one that also happens to record video at a rather poor quality). It probably took me all of 5 minutes, including exporting it to MP4. You can see the end result here:
If you wish to check out the Movavi Video Editor before parting with your money, there is a free trial available, which lets you try out all of the software's features (before you go crazy with editing, however, keep in mind that this is a limited, 7-day trial which also adds a watermark on your finished video). If you do use it, I'd love to hear your thoughts on it!
[tweetthis]Video Editing Made Easy: Movavi Video Editor[/tweetthis]