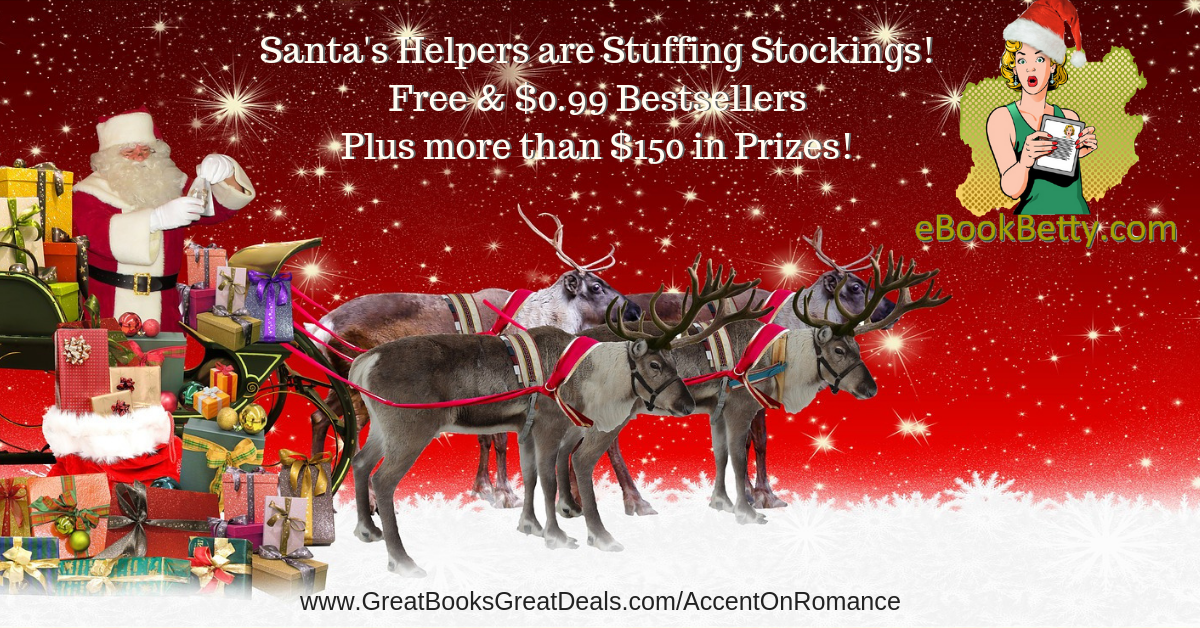 Accent on Romance Christmas Giveaway
Yes, there is still time before Santa's Elves pack up shop. Enter a giveaway, download free or discounted books, and spend these holidays reading… which is, arguably, better than anything you might fit in a Christmas stocking (well, most things anyway. I mean, there are chocolates. Or diamonds. Your choice.)
If the deals below are not enough, eBookBetty also has its regular Monthly Giveaway with $150 in Prizes and a $100 Amazon Shopping Spree:
Have you entered? Good. Now, choose some or all of these best-selling books for your cozy reading nook or Christmas stocking. All of these are FREE and 99c between December 17-21, 2018.  
Free/99c Books
FREE: The Sheriff's Woman by Jackie Weger
Sheriff Garrett Stark is man to the bone. No swaggering necessary. He gets the job done so it stays done~until he tangles with Rachel Cameron. She tells him to mind his own business. He does. Rachel is his business and he's all in.  Amazon. Nook. Kobo.  iBooks. Google Play.  Fans of  Debbie Macomber, Nicholas Sparks and Barbara Freethy will relate to The Sheriff's Woman in this sweet Small Town Romance.
---

New Release! 99c: Creatus Talis by Carmen DeSousa
A new breed of creatus has been born.  Vev, one of the first generations of creatus talis, finds herself torn between her younger family members and a forbidden love as she fights to save the young talis from being turned into a weapon — or worse, annihilation.  On Amazon.
---
99c: A Heart not Easily Broken by M.J. Kane.
Ebony Campbell is a smart, sexy career-oriented black woman who wants nothing more than a summer fling with a man who challenges her mind and body. What she doesn't expect is Brian Young, a blond-haired, blue-eyed bass player to step up to the challenge. On Amazon.

---

99c: The Diary by Melinda De Ross.
A Gothic romance. A love story is born on a background of fierce history, in the castle of Countess Dracula. The two strangers who reluctantly embark on a journey of mutual discovery stumble upon murder and horror, in this captivating modern-day tale set in Transylvania. On Amazon.
Fans of Billie Sue Mosiman, Wendy Webb and Kerry Barrett will find The Diary a fascinating read.
---
FREE: Season one of SIDE HUSTLE by A.J. Lape
Darcy Walker excels at lies, deception, and out thinking the bad guys. She has the résumé to prove it. While waiting to attend the police academy, she takes her talents into pizza delivery. Little does she know, life as a delivery driver isn't all pizza and wings. On Amazon.
Fans of Janet Evanovich, Stephanie Bond and Jana DeLeon will adore Darcy Walker.
---
99c: Two Hearts in Winter by Donna Fasano
Two wounded people… one cold winter at a seaside Bed and Breakfast… Their lives will never be the same. On Amazon.
Fans of Nicholas Sparks, Nora Roberts, and Barbara Freethy will thoroughly enjoy and engage with this tender love story in Two Hearts in Winter.
---
99c: The Lake House Secret by Debra Burroughs
Captivating romantic mystery with plenty of delicious small-town family drama. Jenessa Jones is caught between her old boyfriend and a new love, becomes embroiled in a homicide investigation, hidden secrets, and a simmering love affair.
Fans of Joanne Fluke, Barbara Freethy and Janet Evanovich will be enthralled with this small town mystery. On Amazon.
---
FREE: This Piece of my Heart by Robyn M. Ryan
Innocent Coed. Red Hot Hockey Star. Fate places them on a collision course. A sweet New Adult love story that sizzles on all burners.
Fans of Jamie Davenport, Lisa B. Kamps, Kate Willoughby, and Kelly Jamieson will devour this sports romance in a single sitting. On Amazon.
---
99c: Big Magic by Barbara Plum.
Bizarre. Strange. Funny! Entertaining beyond measure. No vamps, weres, or ghouls in this tale of witches, warlocks, and an ordinary human. The dialog is sassy, funny and quick.
Fans of  A Demon Stole My Kitty, Kristen Painter and Lily Harper Hart will not be disappointed with this page-turning paranormal. On Amazon.
---
FREE: A Runaway Smile by yours truly
A little boy's smile runs away. As he searches far and wide for his smile, he discovers the only real smiles are those you share. A delightful children's mystery comparable to those by Roald Dahl, Julia Donaldson and Antoine de Saint-Exupéry. On Amazon.
---
FREE: Twice Upon a Time: Has Anyone Seen Santa? by Marina Gioti
The night before Christmas intrepid detective, Filbert Numbscull refuses to let it pass without finding the truth about Santa. Children will delight in this fantastical adventure to the North Pole. On the order of Fairy Tales with a Twist such as Honestly, Red Riding Hood Was Rotten! as told by the wolf.  On Amazon. A lovely picture book that answers the question: what do we tell our kids/grandkids when they ask for the truth about Santa?
---
99c: Million Dollar Question by Ellie Campbell
Chicklit. A hilarious, rags to riches tale. Thought-provoking and dramatic, yet a wonderful blend of satire, story, love, and hope. On Amazon.
---