A couple of months ago, I got a lovely surprise on Facebook. Someone I'd never met before was asking me if I was the same person who was vacationing at Mati, a resort close to Marathon Bay. I answered yes, and this person said they were friends with an old friend of mine, Agnes.
Now, I hadn't met Agnes in, oh, over 25 years. But we used to be very close, in that special way that teenagers are: always on the phone chatting with each other, gossipping about this and that, etc. So, I was delighted that Agnes (who has no Facebook account and used her friend's one to contact me) reached out to me. Even more so, when it turned out that she did so after reading Runaway Smile to her children and figuring out that the awkward nerd she had befriended ages ago was its author. And even more so when she sent me a Musiville-based piece of fanfiction.
And if that wasn't enough, she then suggested we do an event for her children's school.
Book Presentation
First, the event. If you happen to be in Athens next Saturday (the 4th), it would be great if you dropped by the Rafina Municipal Library at 6 pm, when Dimitris and I will be presenting Runaway Smile. The idea is for Dimitris to show kids how to draw certain characters from the book, while I read from the book. I believe this will make for a truly fun, interactive evening.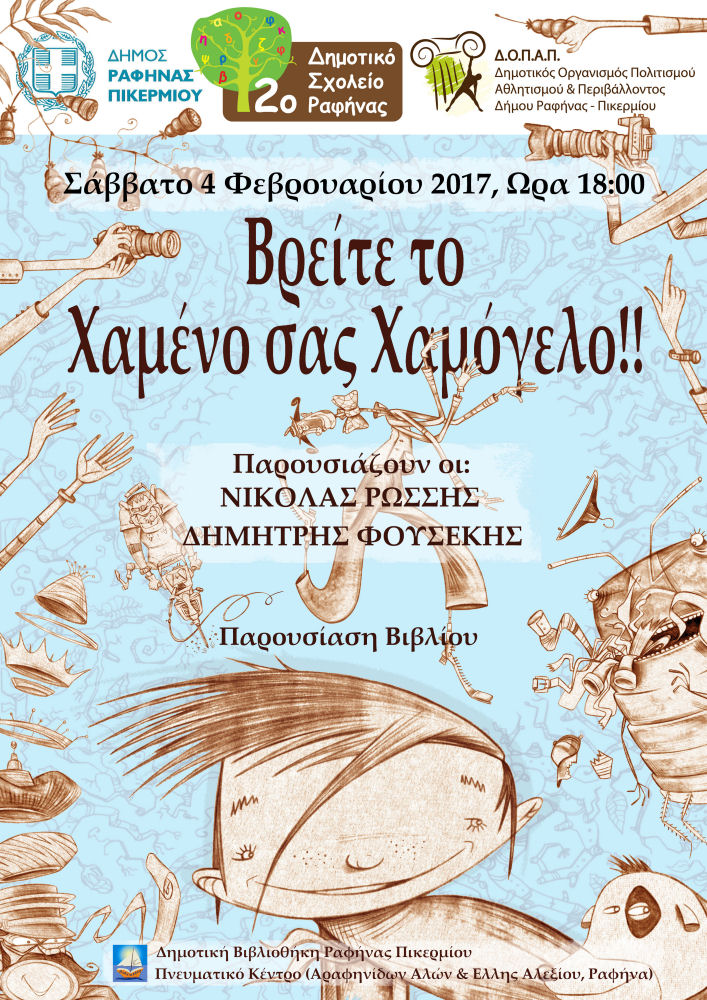 Next, Agnes's fanfiction. I was always jealous of authors who receive fanfiction. What can be more satisfying than knowing that, you've inspired another person to write? Alas, I hadn't had such a pleasure.
Until Agnes sent me the following:
Through an aRni's eyes
This is the story of the Bassheep. A black Basheep, to be precise. He was the village's trouble maker, belching "welcome to the jungle" whenever someone passed him by. He's not part of the story, as he refused to participate in the elections and protested by painting the grass red.
Bassheep had once formed the Grazing Clones. You may remember their logo – Dolly sticking her tongue out. During the elections, the Grazing Clones were playing baahhrock at the student festival on the river bank opposite to Musiville. The festival was organized in protest of cloning and against the silence of the lambs, but trouble ensued and the police had to break it up. Basheep escaped, although the rest of the Grazing Clones – the Guitarlamb, Creecreeboards, Drumewe, and Ramer – were arrested for indecent fleecing.
Baasheep sought asylum at the Musiville municipal center, where he joined an angry crowd of Grazing Clones fans. Together, they masticated public grass and pilfered haybales. That wasn't enough for Baasheep, though, who left to seek other forms of protest such as spitting hairballs and spinning gold-painted fleece. Thankfully, the new album of Bahbels was released shortly afterward, titled "And Justice For All." Baasheep convinced Baasheep to use their earnings to hire Agatha Thistles, one of the best lawyers of Musiville, to defend the Grazing Clones in court. She did, and the Grazing Clones were acquited.
Agnes promised to let us know in the future whether the Grazing Clones managed to assimilate into Musiville's new, democratic culture. Were the sheep domesticated, or did they continue masticating?  What answer did the "Grazing Clones" give a big music company that wanted to sign them on? Did they sell out their art to find fame and wealth? Looking forward to her next installment…